Tax & Bookkeeping Solutions for Truckers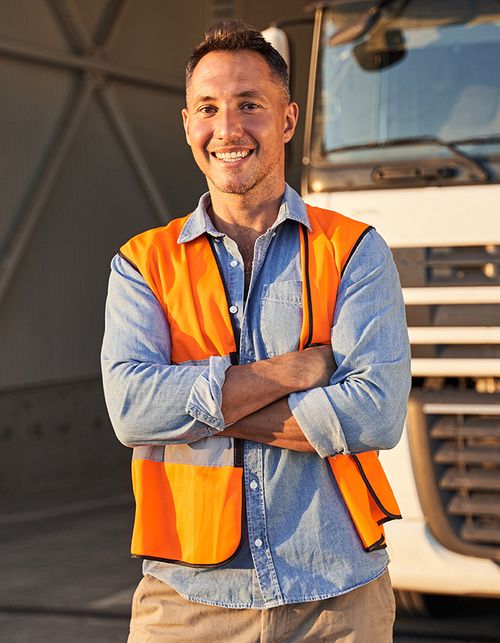 Trucker Tax Resolution and Settlement Services
At Lifeline Tax Solutions, we know first-hand how important the trucking industry is to our great country's economy. After serving as an embarkation logistics specialist in the Marines, one of our founding members owned-and-operated a trucking company working with hundreds of owner-operators. Many people have tax knowledge, but more importantly — truckers need experts on their side who understand the complexities of their industry. That's where we come in.
Our team of experienced CPAs, tax attorneys, and bookkeeping professionals are honored to partner with truckers, providing them with real answers, real help, and real trucker tax solutions tailored to their unique needs. Let our tax resolution company lend a hand with all of your tax and bookkeeping needs — contact us today to get started!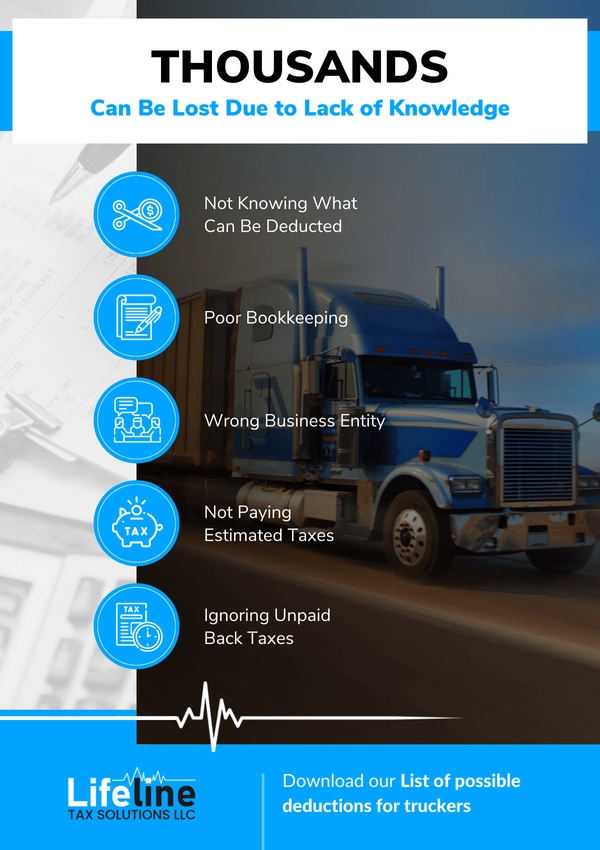 Tax Preparation From Those Who Don't Know The Trucking Industry Can Spell Disaster
Why Would You Owe Back Taxes? You Thought You DId Everything Right.
Not Knowing What Can be Deducted - Your tax preparer doesn't know the trucking industry so you ended up owing a bunch of money probably because you were audited and now owe a bunch of money in back taxes.
Poor Bookkeeping- You were busy making a living, and with everything going on in life you didn't keep all of your receipts so your tax preparer wasn't able to write off as much as he could have. Now you have a big tax debt because your bookkeeping missed key deductions.
Wrong Business Entity- You're a sole proprietor and not able to take advantage of business deductions afforded to an LLC. Now you owe more money than you should have and now have a big tax debt.
Ignoring Unpaid Back-Taxes- You messed up in the past, you know you owe but 4 years later you get a letter in the mail that your 10k debt has now doubled to 20k. Ignoring the problem continues to get you further and further behind. Your big tax debt just got bigger.
These are all mistakes that have already been made. We're here to help you get them corrected. We want to help truckers fix their past first (by hiring us for Tax Resolution/Settlements), we then want to make sure you never get into back tax trouble again by allowing us to do your bookkeeping and tax planning. Fixing your past and protecting your future.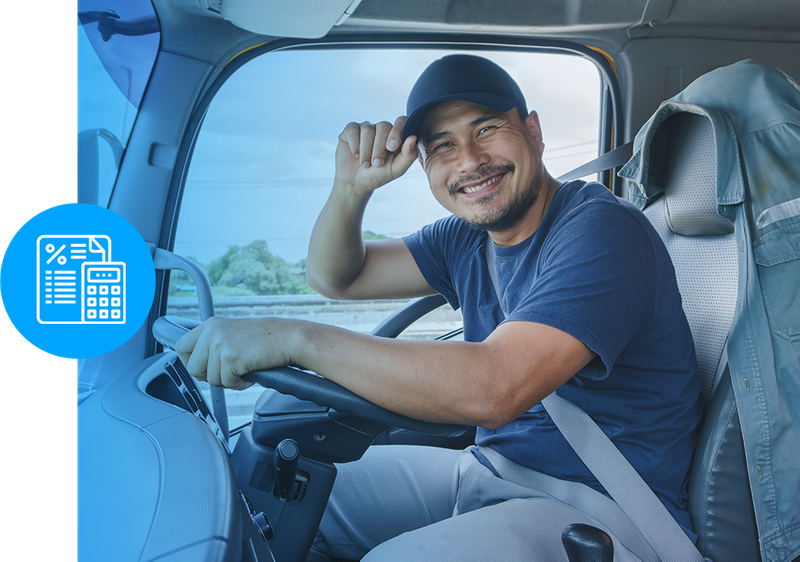 Personalized Tax Preparation and Bookkeeping Solutions for Truckers
With so many different tax professionals out there, it can be hard to find the right specialist with an in-depth understanding of the trucking industry. At Lifeline Tax Solutions, we understand this, which is why we're proud to specialize in providing customized tax and bookkeeping services for owner-operators and carriers. If your CPA doesn't know what a lumper fee is then you have the wrong CPA. As a proud partner of truckstop.com, we're honored to work specifically with carriers and owner-operators, and we will always go above and beyond to ensure you're getting the right advice you can feel confident about — and top-notch trucker tax solutions you can trust.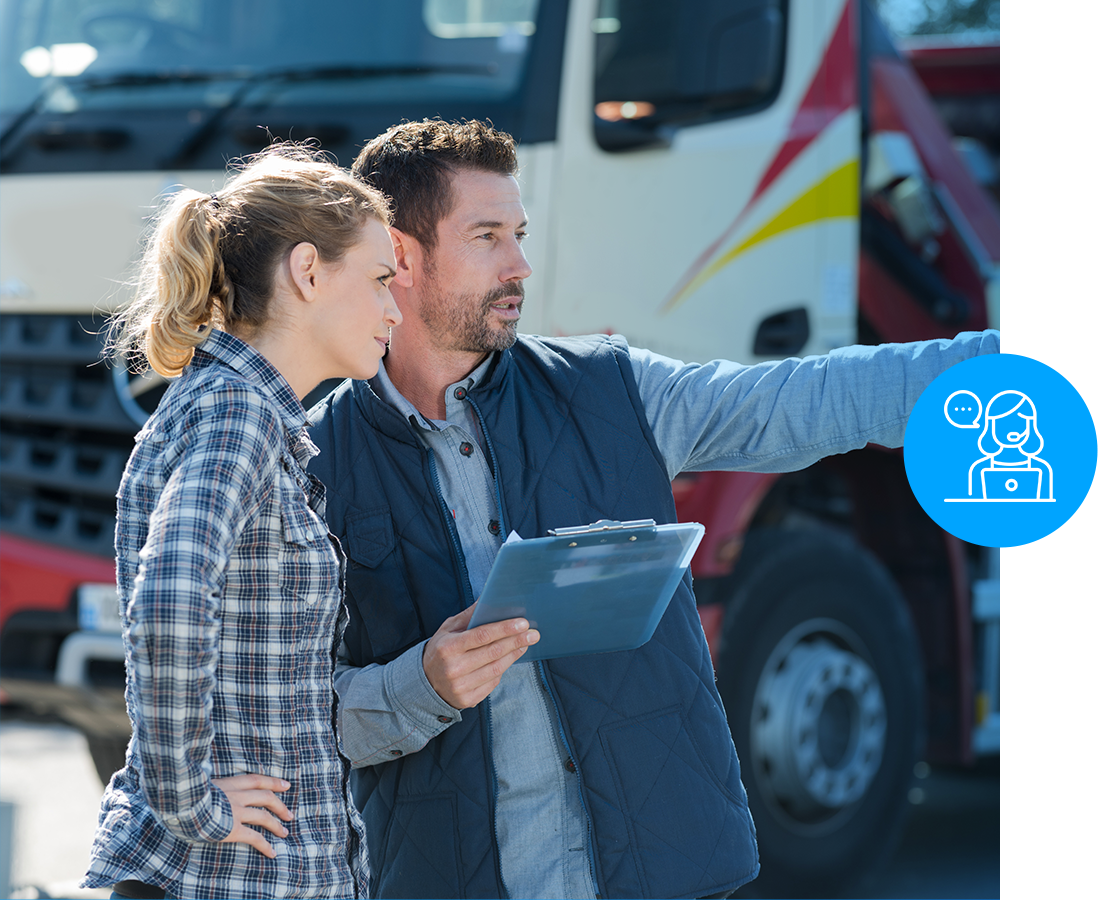 How Can Our Tax Settlement Experts Help You?
Along with our in-depth knowledge of the trucking industry, our experts specialize in all areas of tax resolution for truckers and bookkeeping solutions tailored to your unique situation. Our mission is to provide you with all the solutions you need to keep your business — and your livelihood — moving forward. Lifeline Tax Solutions can help truckers with: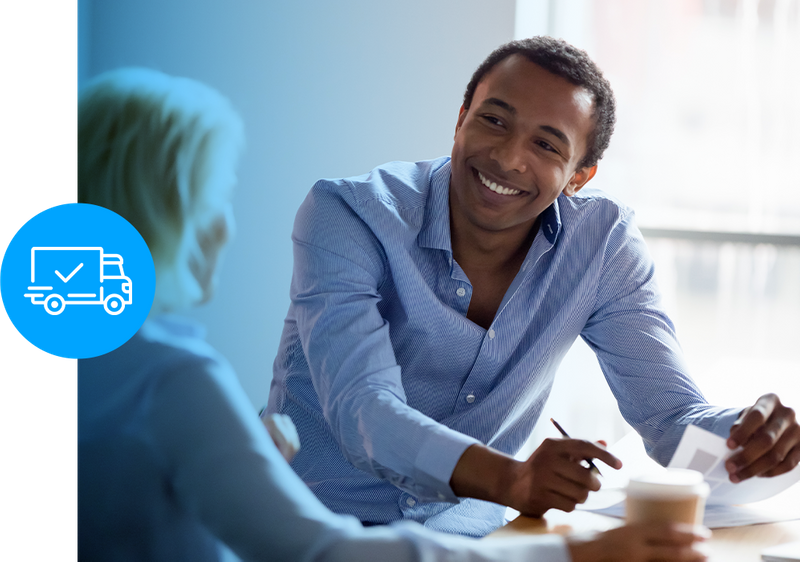 Truck Drivers Are Affected By Aggressive Collection Action By The IRS In Ways That Are Unique To Them.
When it comes down to it, taxes for the trucking industry are complex, which is why having an experienced and knowledgeable tax professional on your side is always encouraged and recommended. One of the biggest reasons why is because truckers and owner-operators can lose thousands of dollars due to a lack of tax and bookkeeping knowledge. Here are some of the top losses truckers face without having the assistance of a tax professional:
Bank levies: Imagine being a truck driver delivering a load, you stop to get fuel but there is no money in your bank account because the IRS took it. You'd be stuck with no way of delivering or getting out of the parking lot.
Wage Garnishments: Imagine not being paid by the warehouse you just delivered to because of an IRS garnishment. The IRS takes ALL of your money…not just a portion. You'd be stuck with no way of making money because you can't keep the wheels turning.
Tax Liens: Tax liens show up on your credit report which ruins your credit. What if your engine throws a rod and you need a new engine. You'll probably have to go to the bank to get a loan for 15k but the bank won't give you a loan because of the lien.
Unfiled Taxes: When a trucker doesn't file taxes the IRS will file for them. The average owner operator does about 300k in Gross revenue per year. If you don't file then the IRS just assumes the 300k that was reported against you was all profit and they assess 100k worth of debt to you. If you file then you deduct all of your expenses. Instead of paying taxes on 300k you should only be paying taxes on the actually profit which was probably only 60k or so…filing taxes is very import for a truck driver.
Don't go it alone, and don't leave your livelihood up to chance; rather, contact our tax resolution company and discover how our trucker tax solutions and bookkeeping services can help keep you moving forward.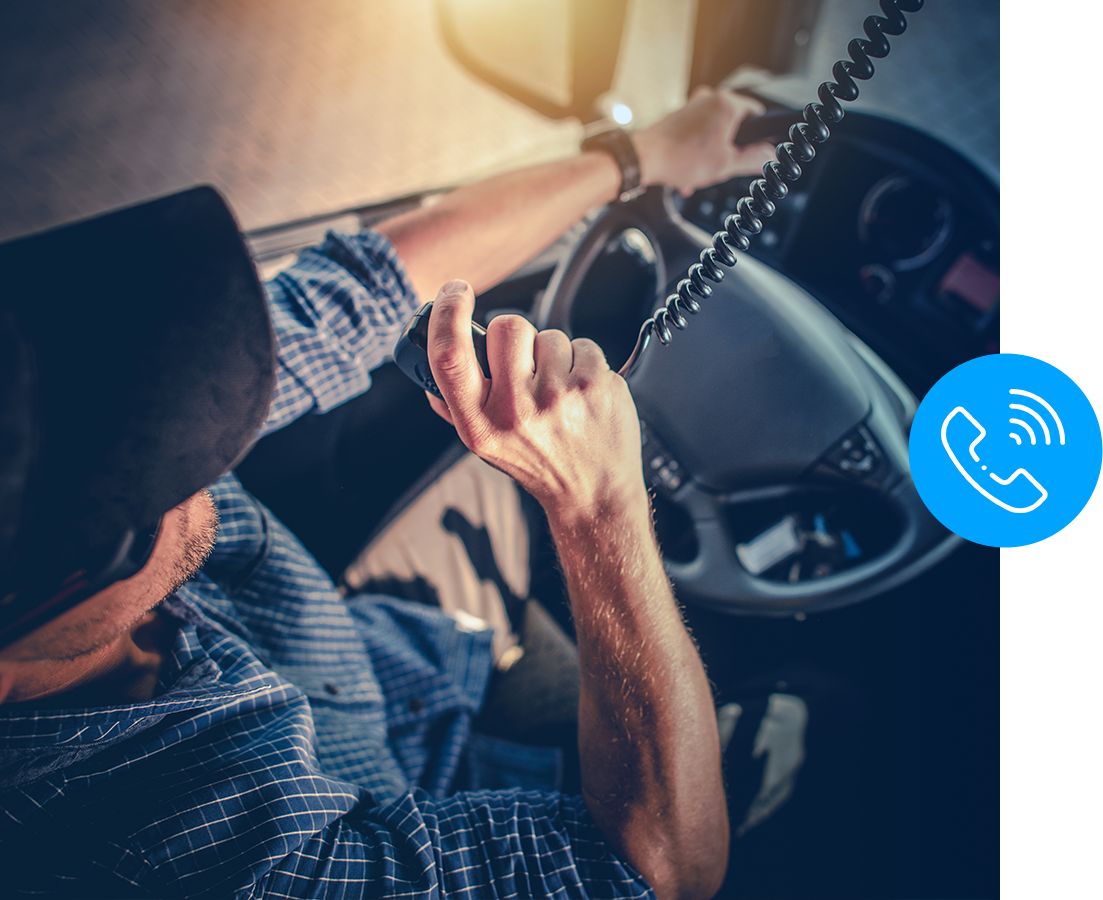 How to Get Started With Our Trucker Tax Solutions
We make getting the trucker tax help you need simple and easy! Simply connect with Lifeline Tax Solutions to schedule your initial consultation with one of our dedicated and experienced specialists. During this consultation, we will listen to your needs and goals, and learn about your unique situation to determine the best trucker tax solution tailored specifically to you. What's more, we're committed to honesty, transparency, and open communication, which is why we will provide you with progress reports after our very first meeting so you always know where we are in the process.
Once we have gathered information from you, we proceed to the investigation review so that we can fully understand your situation to provide unparalleled help, guidance, and support. Next, in an effort to provide you with peace of mind and relieve the stress of having to deal with the IRS on your own, we create a roadblock with the IRS and work with them on your behalf to arrive at the best possible solution for a tax resolution you can feel comfortable with.
Answers to Frequently Asked Questions About Our Trucker Tax Solutions
At Lifeline Tax Solutions, we understand you may have questions regarding your situation — and we're here to help provide you with the answers and clarity you need to keep your business moving forward. Here are a few common questions we hear about our trucker tax help and bookkeeping solutions:

What If I Have Not Filed My Taxes In Years?
The IRS does not penalize you for filing late if they owe you money; however, the penalties are steep if you owe the IRS money.
Additionally, when you do not file, the IRS creates a "Substitute for Return," which means they file taxes for you. When this happens, it's essential to keep in mind that they will tax you at the highest rate without taking all of your expenses into account. With that being said, our team will work diligently to replace ridiculous IRS assessments with the actual amount you owe, saving you money and stress.

What If I Can't Afford the Taxes I Owe?
If you can't afford the taxes you owe, don't worry! There are many different options available to you, and our team will work hard to find the right solution for you. Click the link below to explore the top five tax options available to you, or schedule a consultation with one of our knowledgeable tax specialists.
If you're ready to start your journey toward greater peace of mind and security when it comes to your taxes, our team is excited to partner with you. Contact Lifeline Tax Solutions today to discover the benefits of our trucker tax solutions and bookkeeping services tailored to your unique needs, situation, and budget. We are here to provide you with real answers and real help you can trust, so connect with us today to get started!