See what our happy customers have to say about us:
No More Stress
"Lifeline did an amazing job with numerous years of unfiled tax returns. They prepared all of my missing returns and they were able to help me manage this monstrous IRS problem with a payment plan I can afford. No more stress. Thank you life line!"
- Michael O.
I Def Recommend!
"I cant thank Lifeline enough for their help. I was in way deep with the oRS and they were able to help me sleep at night. They were able to stop a bank levy and save my paycheck from being taken from me. Thank you Lifeline! I Def Recommend!"
-Jared S.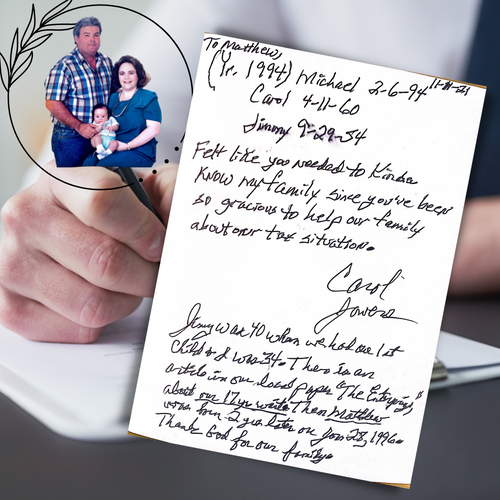 Handwritten Thank You notes are the BEST!!
We absolutely loved working with Mrs. Jowers. Thank you so much for sending us this handwritten note and picture. It really means a lot!